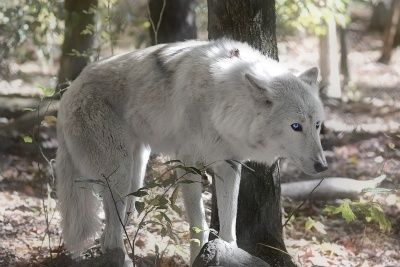 General
Name:
Vito
(vee-toe)
Age:
4 Years
Gender:
Male
Breed:
Arctic Tundra Wolf
Rank:
Totem:
Owl
Social
Mother:
Luci [Deceased]
Father:
Rune [unknown Location]
Siblings:
Xander, Tia, Enzo [Unknown Location]
Other Family:
No that are known of
Friends:
None at this moment
Appearance
Build:
Standing at 1.08 meters, Vito isn't small. Though he is lanky looking with his long, slim limbs, he does a few perks. Those perks consist of the following: Muscular shoulders and haunches, Highly held cranium with erect ears, keenly listening, Large paws to support/spread out his build, Lightly lifted tail in a stance of domination. Vito also has rather pointed ears sitting at a 55 degree angle upon his cranium. His tail also, when loosely hanging, sits 3 inches from the ground.
Fur:
The pelt is a subtle ghostly tone with streaks of Isabelline/Pearly white shades, this is a very dense and silken layer of fur. Grey hairs circle around the eyes, nose and appear upon the tips of both ears and tail. An albino spread covers the top coat with coarse, waterproof hairs, though it blends with the softer coat beneath, it still have a slightly rougher edge.
Eyes:
Brandeis blue mixed with a light periwinkle surrounds the pupil with a swirling hypnotic tone. The eyes itself is glossy and reflects the images of things in front of him.
Persona
Personality:
Set with the traits of a healer, Vito has a nack for staying beside others in their time of need, willing to listen to their problems and worries. He enjoys feeling of being trusted upon in anothers dark times where all they need is a couple of herbs and a vent. A few of the things He can't stand is someones rude and ungrateful attitude. The act makes the males hackles stand on end. Even through all of this, he is a rather shy guy who tends to only include himself in a convocation when another wolf needs pointing in the right direction, or when summoned by another to speak. All in all, he keeps to himself other then when another needs his opinion or guidance.
Likes:


Helping others

Proving that another is in the wrong

Making strategics up for all situations

Staying warm/Dry

Dislikes:


Rudeness

Open areas

Gloom

Wolves with no determination

Strengths:


Strategic thinking

Determination

Remedy/Concoction Knowledge

Herbal Knowledge

Weaknesses:
[list]
[*]Being proved wrong (Depression)
[*]Fear of Elk
[*]Triphobia (Hives and any other holed substance)
History
History:
Brought up in a small valley to the west, this male had a very dull upbringing. Six days a week he'd help the local healer collect herbs in the woodlands and meadows surrounding the territory and on the one day he had to himself, he'd use the time to look after his brothers and sister, pups of his mothers second litter and often then not, sneak off to listen to the elder wolves and their teachings.
One day in his second year, a dark time struck his pack. Elk and other large prey had began staying away in the autumn/winter months leaving the pack living off scraps and other food sources that weren't digestible. Originally, everything was going to work out, but that was when they came...
Another pack had entered the territory, claiming trespasses upon their own terrain with one intention; mass-slaughtering those who stood in their way. It has happened in a wide open meadow where Vito used to collect a wide range of herbs and other organic resources. He had watched his father flee from the fight, his mother ripped apart by enemy wolves and his brothers and sister carried away in a bruteforce manner. and that was all he could remember until the final knock to the head had brought into an unconscious state.
Strength
16/50

Stamina
2/50

Speed
2/50